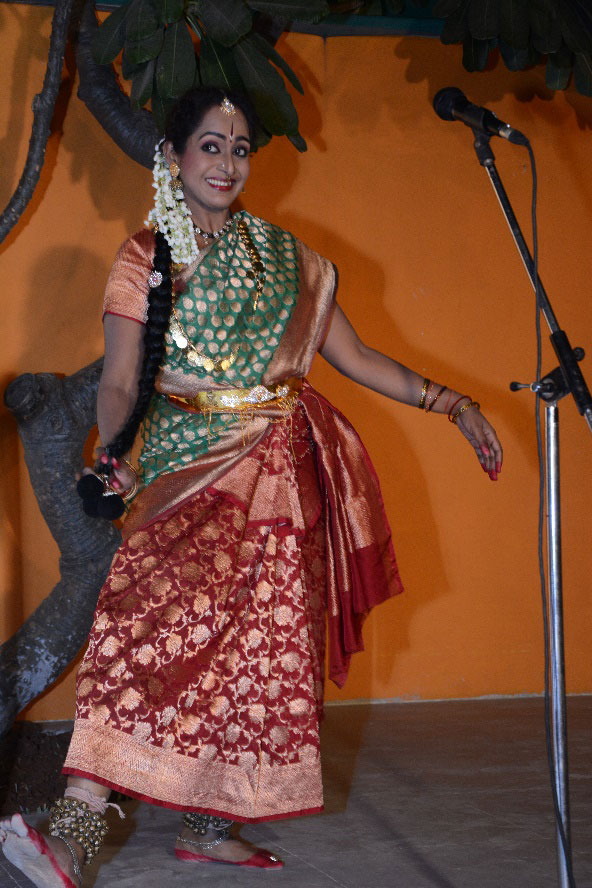 Researcher
A scholar with deep interest and comprehensive outlook towards the interrelationship between the practice of dance and the knowledge from the treatises, Yashoda has  researched on a number of texts. Notably , the Nṛtta Ratnāvali, Abhinaya darpana, Sangita Ratnakara and the Natyasastra. Drawing inspiration from these texts Yashoda has refined and enhanced her repertoire in both Devadasi Nrityam and Kuchipudi.
Translated the 13th Century Sanskrit treatise on dance, Nṛtta Ratnāvali, into English in association with renowned art critic Dr. Pappu Venugopala Rao published in 2013. Her Critical Edition of Nṛtta Ratnāvali has been approved for publication by IGNCA, Government of India.
She has authored the book Kaivalya-Joy in Yoga and Dance published in 2014.
Lecture Demonstrations:
Abhinaya Sudha – Hyderabad, 2006
Silicon Andhra – California, 2008
Mudra Festival – Trivandrum, 2008
Kalamandalam Deemed University – Kerala, 2009
UGC, SAP Seminar on Spectatorship, University of Hyderabad – Hyderabad,2010
Madras Music Academy – Chennai, 2012
Censorship and Women Resistance in the Performing Arts, From Continental Asia to Insular Southeast Asia, by Centre for South Asian Studies- Paris, May 2014
Temple, Court, Salon, Stage: Crafting Dance Repertoire in South India, by Centre for South Asian Studies- Paris June 2015.
The IFTR at the University of Hyderabad, 2017
NrittaRatnavali Conclave by Nartanam, Hyderabad, 2017
"Marathi, Telugu, and Texts for Courtesan Dance in Eighteenth and Nineteenth-Century Tanjore", Hyderabad Literary Festival, Hyderabad. 2018
"The Intertwined Worlds of Social History and Kalavantula Dance" – Yashoda Thakore with Davesh Soneji, Distinguished Lecture Series, University Of Hyderabad. Hyderabad, 2019
Invited as artiste in Residence by the University of Pennsylvania, 2019.
Guided by  Professor Davesh Soneji,   Yashoda  also  trained with the Kalavantulu  Smt. Maddula Janakamma and Kotipalli Hymavathi.
Later she sought out   and trained with Annabattula Lakshmi Mangatayaru and her sister   from the Annabattula families, who have made the Bhamakalapam in the original Kalavantulu style and the Gollakalapam by Tarigonda Vengamamba their forte.
Yashoda along with her students has also presented this version of the Bhamakapalam  and the repertoire of the Annabattula family to  critical applause.