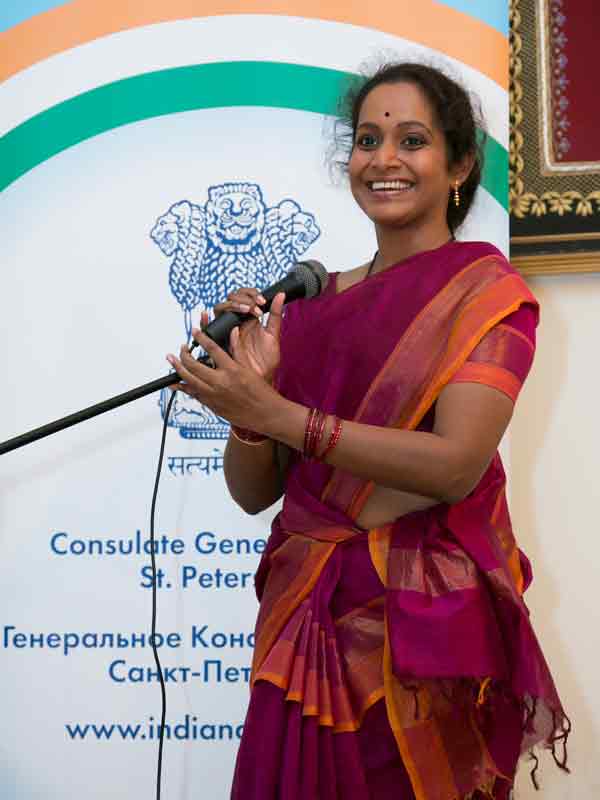 The Teacher
Even as she was just finding herself in her art, Yashoda sought to share her learning with with those driven by similar passion. She began her institute Rinda Saranya Kuchipudi Dance Academy in 1997 where students are trained in Kuchipudi, Music and Yoga.
As with Yashoda herself, the students of Rinda Saranya are encouraged to understand the importance of research in dance. Along with rigorous training in technique, they are taught to understand the essence and put into practice, the multitude texts that form a part of their instruction . Yashoda also draws from her learning and experience as a devadasi nrityam artiste to teach , inspire and empower her students at the academy with the nuances of the Kuchipudi tradition.
She has also been:
Guest Faculty at the Department of Dance, University of Hyderabad, to teach the nuances of the theory of Indian Classical Dance to the students of Masters Course in Dance-August to December, 2006 and January to April, 2009.
Guest Faculty for the course of Yoga-Theory and Practice at the Study India Program (SIP), University of Hyderabad-January to April, 2009. Adjunct Faculty, Dance at BITS-Pilani, Hyderabad Campus.2010-2012
President- Naatyasamgraha established in February 2014, registered as a Non Profit society (Reg. No. 297/2014) for promotion of arts in Hyderabad.
Guest Faculty, Dance University of Silicon Andhra, California. From 2016.